Novergy IPCT series solar ups are designed to deliver pure sine wave output makes them ideal choice and safe for all appliances
With the increasing popularity of solar, many customers are looking for a rugged and economical solar ups for a variety of applications such as office, home, school, college, hospital, centers.  The IPCT range of solar ups are an ideal fit here as they incorporate various features in a single unit thus avoiding the requirement to connect different units.
Available in power ratings from 650VA onwards upto 5000VA.   The output from these models are single phase with 50Hz frequency.
They have an integrated PWM solar controller as well as AC grid charger.  An LCD display is provided on the front so as to show the status of the system and other conditions such as battery, grid supply, etc.  They have an inbuilt galvanic isolation transformer which ensures safety of all the AC loads connected on the solar ups.  Necessary protection features are incorporated in the system so as to protect the main circuit against short circuit or other common faults.
An RTC (Real time clock) is incorporated in the circuit so as to ensure maximum power input from solar panels and hence reduction in grid electricity consumption.  Thus serving the purpose of solar optimization without any intervention from the user.
They are backed with a standard warranty to ensure peace of mind of the user.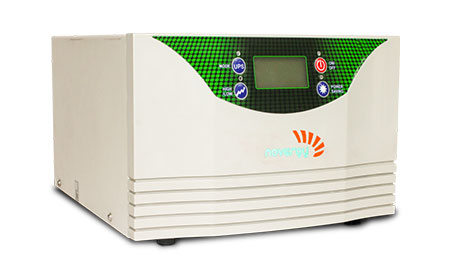 Solar + mains integrated Inverter
Multi colour graphical LCD display

Galvanic isolation between input & output

Basic protections for solar PV input and battery

Better efficiency (as compared to normal home inverter)

Smart battery charging technology (For better & long battery life)

Priority for solar (Maximum utlization Of solar energy from PV modules)

RTC Clock for better solar optimization as compared to normal solar inverters