Novergy has over a decade of experience offering a range of solar solutions serving various business verticals across the globe. We have the most reliable solar technology in the industry with several International and National organizations certifying, accrediting and approving our products. Our systems continue to deliver the best energy output for the same rating of solar capacity.
Being an integrated player, we take design, engineering, manufacturing, supply, installation and commissioning very seriously delivering a superior customer experience. Our detailed orientation is also reflected in project execution and exceptional performance record.
Novergy offers a range of solar solutions that include power plants, rooftop and captive power systems, solar lighting solutions, pumping solutions, solar telecom systems, solar microgrid, solar genset hybrid systems, etc. We are extremely customer centric and our team firmly believes in carefully analyzing every customer requirement and providing the most appropriate solution for their needs.
Our products have a NIL replacement record in harshest of conditions resulting in highest customer satisfaction.
Our Range Of Products And Solutions Consist of :
Very high efficiency Solar crystalline modules (Mono and Poly)

Solar Inverters of different types (On-grid / off-grid / Hybrid/ etc)

Solar Power plants and power packs

Solar modules and BIPV products for architectural or Green building applications

Solar systems for Oil and Gas applications

Solar lighting solutions (Street lighting / Aviation / Navigation / Traffic / etc)

Other custom designed solar systems based on specific project requirements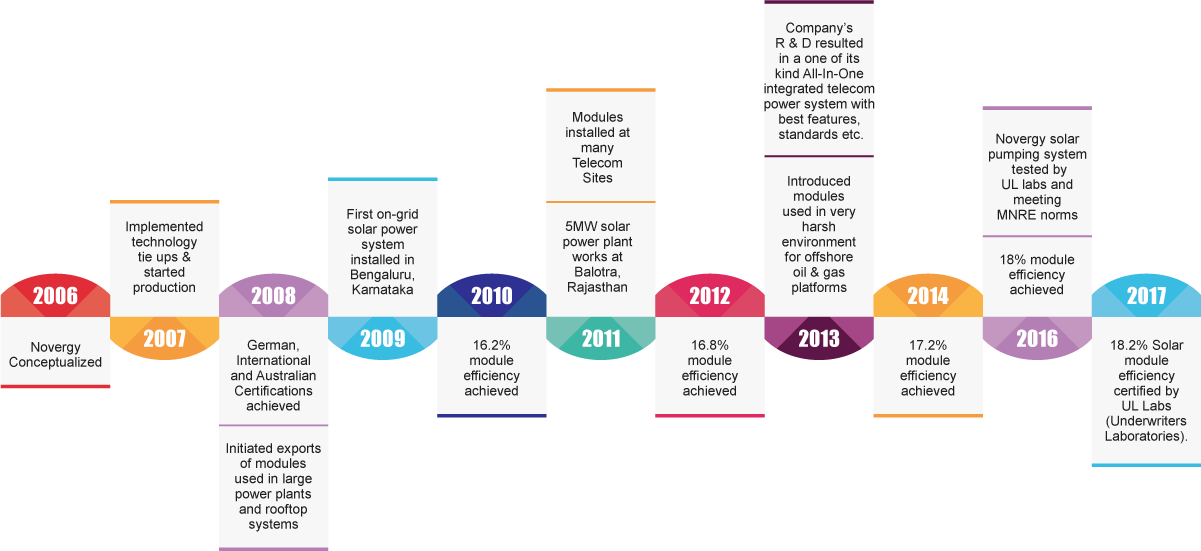 One of the highest efficiency Solar technology and products.

Assuredness of 10+ years provenness and reliability on field.

Integrated player with design, engineering, production, etc expertise in house.

Many MWs installed products in various applications such as Solar Power plants, rooftops, captive systems, pumping, street lighting, traffic signalling, etc.

Rugged range of products proven in very diverse and harsh conditions around the globe.

Certifications and accreditions by various internationally reputed bodies.
Products already exported and installed in various countries and continents.

Technically very strong management and team purely focussed on improving our Solar technology.

Continous technology improvement , upgradation, R&D and innovation.

Wide range of solar solutions with further capability to custom design or offer solutions.

Social initiatives and community support by support to Rotary, Donations, Not for profit bodies, colleges, schools, etc.