Novergy offers Very High Efficiency Crystalline Silicon solar panels made using highest quality raw materials under stringent manufacturing standards. Our Half-cut Solar panels consistently deliver reliable power and more kWh energy (upto 60% or higher) for an extended period of time with significantly lower degradation.
We offer solar panels with a choice of Monocrystalline solar panels and polycrystalline solar panel. The cell efficiency of these solar panels is greater than 21%. These solar panels are available in different wattages reaching upto 350w and with various cell configurations such as 72 cells, 60 cells, and 36 cells.
The solar panels come with Antireflective coatings (ARC) on the front glass to help absorb more solar radiation. Behind the solar panel is a waterproof and dustproof IP67 junction box. The junction box has integrated bypass diodes to reduce the effect of shading or dust. Our solar panels have strong mechanical strength and are certified to withstand high wind loads and snow loads while being extremely responsive in low light conditions capturing more sunlight in cloudy conditions ensuring better power generation. These solar panels have the lowest temperature coefficient, hence ensuring better energy output in tropical and high temperature conditions.
The twin peak solar panels effectively give maximum throughput with its smarter and sturdy design for all weather conditions.
These panels have been installed in various power plants, rooftop systems, pumping systems, lighting systems, etc. across the globe and have exceeded the performance expectations always. Due to the higher efficiency these solar panels require less space to install the same KWp.
The twin peak solar panel is a promising investment in saving long term energy costs.
These solar panels are backed by a 25 years linear warranty resulting in a more stable performance assurance and ensuring complete peace of mind for the customer.
Novergy has been on the forefront of helping customers across industries solve their emerging power needs for over a decade.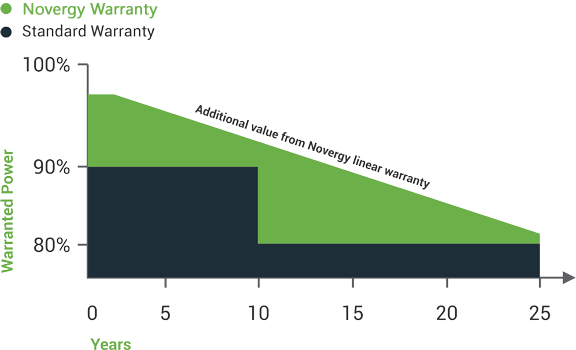 25 YEARS WARRANTY
For a period of twenty-five (25) years commencing on the Warranty Start Date, loss of power output of the nominal power output measured at Standard Test Conditions (STC) for the Product(s) shall not exceed:
1. For Polycrystalline Products: 2% in the first year, thereafter  0.67% per year, ending with 82% in the 25th year after the Warranty Start Date.
2. For monocrystalline Products: 2% in the first year, thereafter 0.67% per year, ending with 82% in the 25th year after the Warranty Start Date.
The Modules Carry a 10-year product warranty against any manufacturing defects.
CERTIFICATION, ACCREDITATION & REGISTRATION