When you think of getting solar panels installed, the first priority is always towards the maximum energy output. As a customer, you would always look for a solution that can get you higher energy yield, higher savings/ROI and be eco-friendly as well.
By integrating years of experience we have and the understanding of  various needs, issues and feedback given by our customers, Novergy has developed a solution that is cost-effective and efficient. A solution that addresses all the detrimental effects caused by shading and extreme temperature. We would also like to introduce this solution for sites with limited space.
Novergy new series is an upgraded version of the conventional monocrystalline and polycrystalline modules. It is based on a cutting-edge twin cell technology, which not only cuts all the cells in half size but also cut the overall cost of installation and operation while ensuring efficiency up to 20.7%.
Twin-cell solar panels run on the ground-breaking technology, which makes them 2X more efficient and robust. You get more power output per square meter. The conventional 72 cells are cut into half and 144 half-cut cells come into existence. These multiple cells diminish the resistive loss and mechanical stress in the modules which notably improve the performance and durability of the module.
Let's shed some light on the reasons why this technology is changing the face of solar power so you can wrap your mind around it and take reasoned decisions. 
TWIN CELL
When cells are split into two parts, they dramatically reduce the internal current by half and also decrease the power loss during the conversion. By reducing the aforesaid losses, the fill factor of the cell becomes much better which ensures higher and improved energy yield. The improved cell quality and reduction in resistance add up to 7Wp extra output on a 72 twin cell panel.
Besides that, the twin cell layout increases the performance of the modules in reduced irradiance conditions as well. For instance, if some conventional modules are installed on a rooftop and one row of the module gets covered in the shade, then the overall output of the module will be zero. In a similar condition, a twin cell module will ensure at least 50% power output. It will not stop the conversion if some parts of the module is in the shade.
PERC [Passivated Emitter Rear Cell]
A cell cannot capture and absorb all the sunlight, so the additional perc (a mirror-like reflective layer) helps reflect back the sunlight that passes to give a second chance to the cell to absorb and produce energy. Moreover, it improves cell efficiency by reducing the heat caused by the recombination of electrons. Perc acts as a shield between the base layer and rear contact.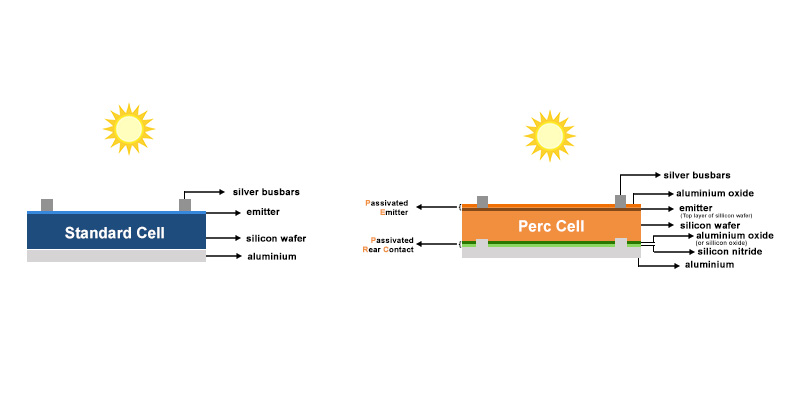 5-bus bar design
Twin-cell modules have 5-bus bar design, because of these additional bus bars on the panels, electrons have less path to travel to reach the ribbon which in turn enhances the transmission of current and reliability of the panel. It also reduces the overall internal resistance and stress in the cells.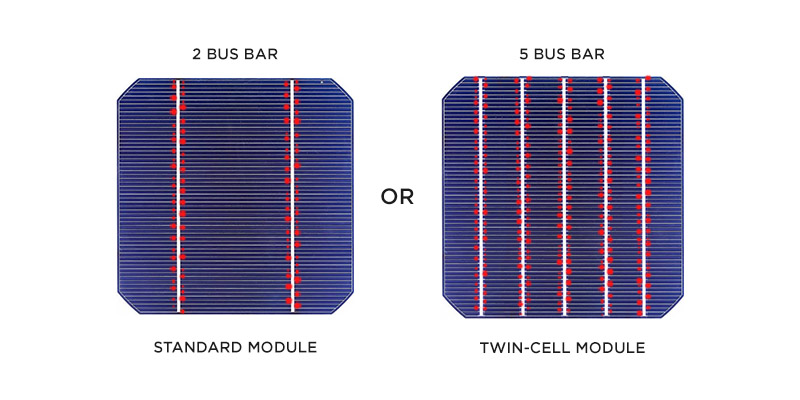 To pull it all together
Novergy is a renowned poly and monocrystalline solar manufacturer in India with 13 years of exceptional service experience. Novergy twin cell technology brings innovative design with highest panel efficiency and improved energy output. Our modules are made of high-quality materials under stringent manufacturing testing and standards. With the use of high-quality raw materials, our cells tend to degrade at a much lower rate when exposed to light, reducing light-induced degradation.
Our twin cell panels are available in two variants – Poly perc with 72 twin cells (Wattage range 335-360) and mono perc with 72 twin cells (Wattage range 375-415). These solar panels have extra anti-reflective coating to absorb more light and generate more electricity. To minimize the damaging effects of shading and dirt, our modules come with water-proof and dust-proof IP68 junction box with integrated bypass diodes. Our modules have the lowest temperature coefficient which ensures improved energy yield in tropical and high-temperature circumstances. All these unique characteristics set Novergy modules apart from the conventional modules available in the market. These features ensure better mechanical strength to withstand any weather conditions.
We have installed our modules in various power plants, rooftop system, pumping system, lighting system and also gave BIPV solutions to our clients across the globe. We have always been at the forefront of helping customers with their emerging solar power needs with our unmatched products and services. All our modules are backed with 25 years of linear warranty. We impart value in our customers' lives by simplifying the complex site installations. Visit novergysolar.com to explore our new twin cell series.