At present, India is adopting solar energy at a rapid rate. It has positioned itself at number 3 globally in solar installation capacity. India might have emerged as a revolutionary player in the solar industry, but at the global front, it has yet to overcome a lot of challenges. These small but significant challenges hamper the overall solar growth in India, one of these challenges is the requirement of adequate area for installation. According to a trusted source, a typical solar panel produces about 300 watts in one hour, which indicates that on a normal day in the summer it can produce electricity up to 3KW. This huge solar potential remains unutilized because people are not exposed to the right information and solution. They think they will have to buy an additional piece of land or vacate the land for the installation.
In urban or rural India, there are millions of commercial buildings and houses which receive ample amount of sunlight in a day. The rooftops and backyards are sunlit in maximum hours of the day, which make them ideal to harness solar energy and then convert it into electricity. To get an economical and clean alternative of power, you have to make sure your site is rooftop ready. It is a futuristic and environment-friendly approach for holistic growth of solar energy.
When deciding to invest in commercial solar installation, the availability of space on the site is the key requirement and will always impact your decision. Even if there is an acceleration in solar adoption, there are companies that cannot go solar due to space crunch issues. They are looking for solutions which can enable them to produce sufficient electricity with a clutter-free installation. Novergy twin-cell 415W solar panels fit right into this description as they eliminate unnecessary installation and clutter, as they require less space to generate electricity. They ensure more power and more savings with fewer solar panels.
Our panel comes with an additional PERC – a reflective layer, which ensures better absorption and improves overall cell efficiency. It has a 5-bus bar design, which enhances the transmission of current and reduces the internal resistance. It continues to generate electricity even if half of the panel is covered in the shade.  To minimize the effect of dirt and shading, it is armed with an IP68 junction box with integrated bypass diodes. Our panel has a low-temperature coefficient, which ensures greater yield in a hot climate as well. This panel can withstand any weather circumstances.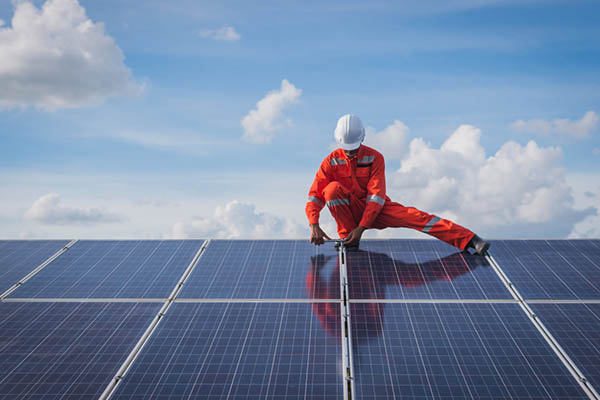 To know more about Novergy's twin cell modules – https://www.novergysolar.com/3-reasons-why-twin-cell-technology-is-changing-the-face-of-solar-industry/ 
It expedites the return on investment with its top-notch efficiency of up to 20.7% and generates up to 60% more energy than conventional solar panels. Twin-cell solar panels is a one-time investment for a lifetime of savings. It makes sure it converts every ray of sunshine into electricity with its innovative technology. This panel guarantees impressive durability and reliability, it delivers more in less space. Our panels outshine and outdo the rest of the standard panels available in the market.
Maximize your lifetime savings with Novergy's highest wattage solar panel. It is a revolutionary panel that has achieved a magnificent level of efficiency and strength. Standard solar panels are made of components from various brands with their own warranties. Separate inverters, which clutter the walls and roofs. They need bulk installation because they have limited energy storage capabilities. We offer a comprehensive solar system that is designed and engineered to deliver more power, durability, reliability and efficiency backed by a 25-year linear warranty.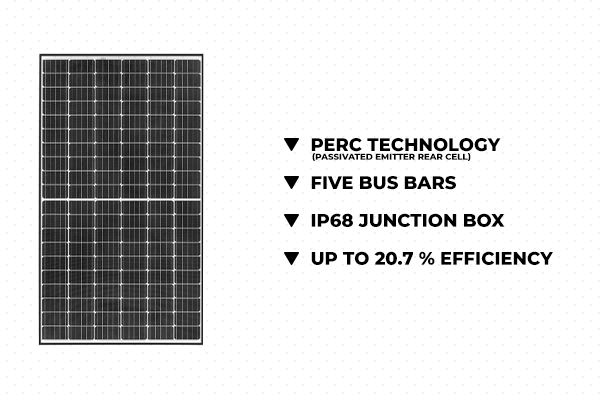 By choosing Novergy as your solar provider, you will get the most powerful and efficient solar solution, customized to your preferences. With over 13 years of experience in diverse industries, we simplify the process of going solar for businesses and public organizations.  We support organizations whether small or big, cut their electricity overheads and provide them with off-grid electricity solutions. To make your site economically feasible, all you need is Novergy's powerful 415 twin cell panel which delivers more in less space.
We ensure that customers do not need to vacate the land and invest in additional land for solar power generation. We extend our help in providing you independence from grid-based solar sources. We assist you to take an eco-friendly decision with products that ensure a holistic solution for all your solar needs. Explore the entire product range on novergysolar.com