Solar has been a trusted partner of architects, builders and designers for the past few years and one such area which has emerged as one of the fastest growing segments is BIPV (Building Integrated Photovoltaic) solar panels which can be blended beautifully in their projects.
BIPV serves many benefits – it not only helps generate clean energy but also helps as a construction material and more importantly it can also enhance the architecture of the building.
Building integrated photovoltaics are elements or components that can replace the traditional building materials specifically in building featuressuch as roofs or skylights, facades, and provide clean solar energy to the building.
It merges into the building in such a beautiful way that it makes the panels unnoticeable.
In this article, we are listing down 3 important pointers on how BIPV can aesthetically improve your building's architecture and it can make sure that whoever passes by your building turns around to notice at least once 🙂
1.Colorful glass panels – As quoted by Mr. Wassily Kandinsky, color is a power which directly influences the soul. Solar panels used in BIPV come in various colors which can beautifully blend in your project theme and make the building stand out.
At Novergy, these colorful glass panels come in various color options like Blue Knight, Forest Crystal, Lavender Blossom, Grey Stone, Brown Teak, and Green leaf.
2.Usage – As an architect and an interior designer, one of the key focus areas is how to intelligently make use of unused and unutilized space if there is a lot of space available and in case the space is less, how to use the space judiciously to reach maximum efficiency.
If there is a lot of unutilized space, BIPV can help in a lot of various applications like creating a solar car parking lot, Rooftop solution, facade or a canopy.
If space is a constraint, a high power and dense solar module can be used.
Novergy offers 380W panels which occupy least amount of space and deliver maximum power and can be easily mounted on a rooftop/parking or any other available space.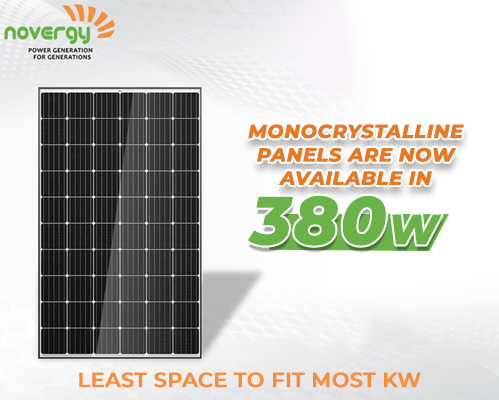 3. Types of Panels/Thickness – Solar Panels used in a BIPV solution can be altered for its thickness and nature of glass. Typically glass based solar panels contain 2 layers of special solar glass.
The top layer (outer facing layer) is a toughened glass layer so as to ensure a very good strength and safety.After the top glass is an encapsulation layer made with an EVA material. After this EVA layer are the solar cells or active layer.There is another layer of EVA behind the active layer. Finally comes the back glass layer. The back glass (inner layer) is a non tempered solar glass.
The solar cells are interconnected by various solders and buses so as the carry the power generated out to the positive and negative leads.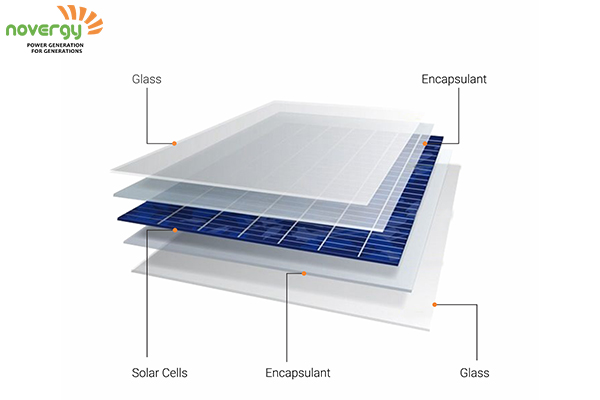 At Novergy, we offer Double glass crystalline PV panels which have glass on both the sides and crystalline cells in between. They come in transparent option as well as in opaque. These panels are flexible to be used in variety of BIPV applications like facade, balcony, canopy, parking etc.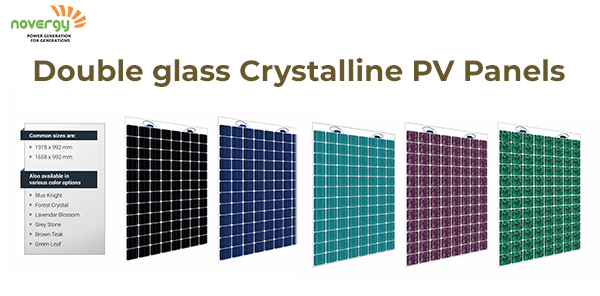 Novergy panels come with a 25 year linear warranty and with our panels installed in your projects, you can have a complete peace of mind as Novergy assures quality, trust and reliability with the best in class solar cell efficiency of 22.5%.