A bundle of solar equipment that can together form an operating solar power system is referred to as a solar kit. It is a pre-designed and pre-engineered, ready to install package offered by the solar energy manufacturers.
It has pre-arranged components which are compatible with each other and comes with solar panels, inverters, DC, AC protection panels and all the wiring and accessories to set it all together.
In order to provide the best quality solar products and solutions to their clients at an unmatched price, Solar Integrators source different components from different vendors and assemble them together piece by piece to install on a solar project site. During this process, they encounter a lot of challenges and problems which may result in less effective low solar harvest or may even result in late delivery of the project.
We have listed down some major challenges which solar integrators may face –
Problems that happen when you piece different parts together from different sources –

Reinventing the wheel: All the components required for a solar system have different efficiency. It's difficult to sit and engineer every little element of the system to optimize efficiency. It decreases the overall effectiveness of the module.
Time-consuming assembly process: Once you've made a decision about components, it becomes difficult to get them delivered from each vendor. Communication and coordination become a daunting task.

Installation: With multiple components sourced from different brands, installation becomes a cumbersome and a complex process, this can often leave the client frustrated.
Fixing a glitch:  When you try to get a problem resolved with one brand by contacting their customer care, they pinpoint other brand's components to be faulty. It's an endless cycle of calls and follow-ups, making clients dissatisfied.
Why Novergy Kits are a professional's choice to build reliable systems?
Novergy offers pre-designed, ready to pick packages customized to fit customer needs and requirements. Customers don't have to devote time to find compatible parts and optimize a package.
Novergy commits hassle-free implementations while guaranteeing maximum output to clients. Here is a list of 4 reasons why Novergy solar kits can help you build a robust system – 

Certified & proven technology: Novergy has installed over a million solar panels across diverse sectors and our products are exported to over 30 countries around the globe. Our products are highly efficient and deliver superior results enabling you a complete peace of mind.
Feasible components for maximum output: All components of the solar system are carefully chosen and selected to match each other; the combinations offer maximum output. Integrators often fail to do that by mismatching the components which can result in low solar energy yield.

Hassle-free Installation: We build reliable and safe solar systems that are ready to use. They are carefully designed and planned to cater to the needs of industry and offices.
Unmatched client-centric approach: We have 97% repeat purchase rate; we follow a professional approach towards our customers that ensures customer satisfaction. We guarantee top-notch customer support to resolve issues and queries.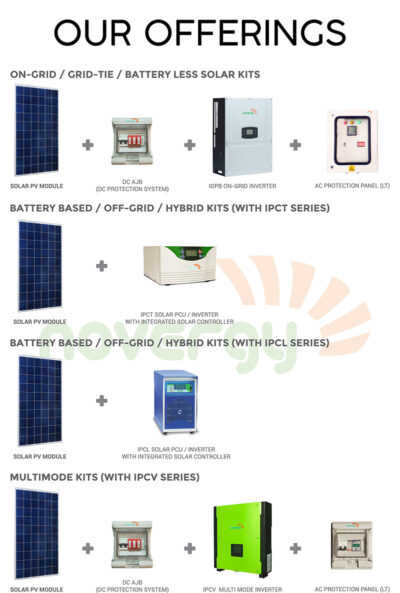 Our solar kits are well planned and optimized to yield a maximum solar harvest, making them the first choice of solar experts.
Due to the detailed designing and engineering process of each and every component of the system, our product delivers high performance, which saves lots of time and money for the solar Integrator. The components of our kits come with various international certifications and standards, allows clients to be assured of the quality.
We are a one-stop solution for all your solar needs. Contact us at enquiry@novergy.net and explore what we have to offer !