With 18% of India's GDP and being a crucial employment provider to 50% of the country's workforce, agriculture is undeniably one of the most prominent pillars of the Indian economy. The Indian agriculture industry has undergone a massive transformation journey in the past two decades with technological evolution, irrigation infrastructure advancements, modern agri practices, numerous renewable energy projects and infinite government policies.
The major players in agricultural industries are always on the lookout for boosting their business and reducing their operating costs. They are by and large, still unaware of the modern practices such as solar pumps and the benefits. They are interested in solar-powered solutions and have the potential to buy them, but they fear that all their investment may get wasted.
In agribusiness, irrigation plays a vital role in the growth, quality and health of the crops. Most often, agriculturists have farming lands in remote locations where electricity lines are not drawn, so to pump water, they rely on diesel pumps. And, if electricity lines are available, then they face frequent outages. These stall the process of irrigation and hamper the quality of crops.
In India, it is estimated that out of 30 million agricultural pumps in India, a third are fuelled by diesel. To them, pumps that run on petrol and diesel still seem a feasible solution because of low upfront cost. They tend to ignore the ongoing costs that push their price over the lifetime. These pumps also demand regular maintenance. To top it all, they pollute the air quality of your farming land and emit carbon dioxide as well.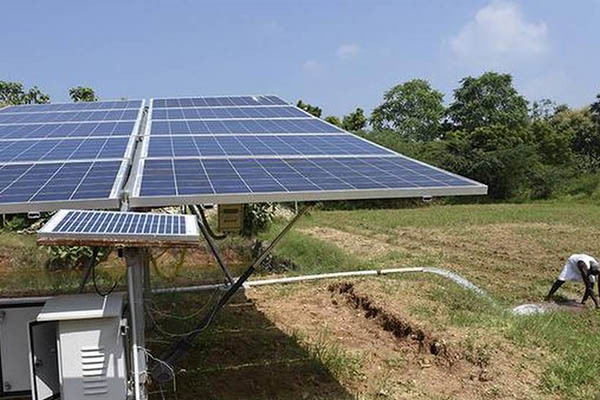 People from such farming regions have to work hard to bring water to the lands during the farming season, as the nature of rain is very unpredictable in the country. To combat this issue, solar EPC providers have made comprehensively designed solar pumps to revolutionize the agri-industry. It lets farmers and the farming industry focus on what is important i.e. growing high-quality cash crops rather than ferrying water from far off distances. It improves farmers' income by cutting down electricity and diesel overheads. It also reduces the dependence on diesel pumps and local grid Irrigation plays a critical role in the income growth of the agriculturist.
It is a cheaper alternative than the conventional diesel or petrol-powered pumps, especially in states like Bihar and Uttar Pradesh, where industries and farmers largely use diesel-fuelled pumps. It drastically minimizes the cost of irrigation and allows farmers to grow more crops, even the water-intensive crops, at a much lower expense. The most important part of the solar pump is that the solar cycle matches the irrigation cycle. It will assure you fixed irrigation time for at least six to seven hours, that too in the day time. It positively impacts the lives of farmers and big agriculturists. Additionally, you can also sell the surplus electricity to the state energy distribution companies (DISCOM) and earn financial rewards from it.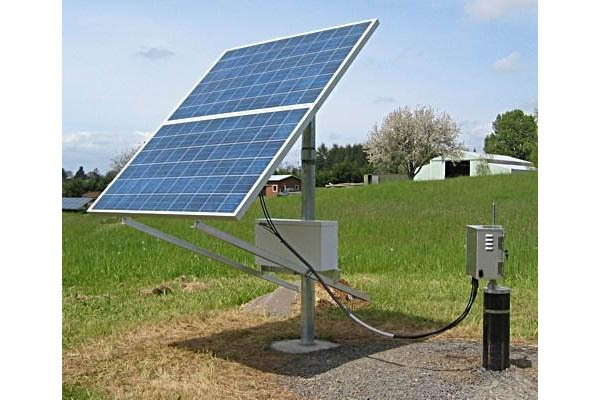 A shift from grid-connected pump sets to solar-powered pumps with Novergy
Switch to solar pumping solutions to irrigate your farms in an environmentally friendly and sustainable way. Novergy offers a range of solar pumps for various kinds of pumping and irrigation requirements. They can be used for a variety of water pumping requirements like farming, drinking water, lift irrigation, water supply in rural areas and community water requirements.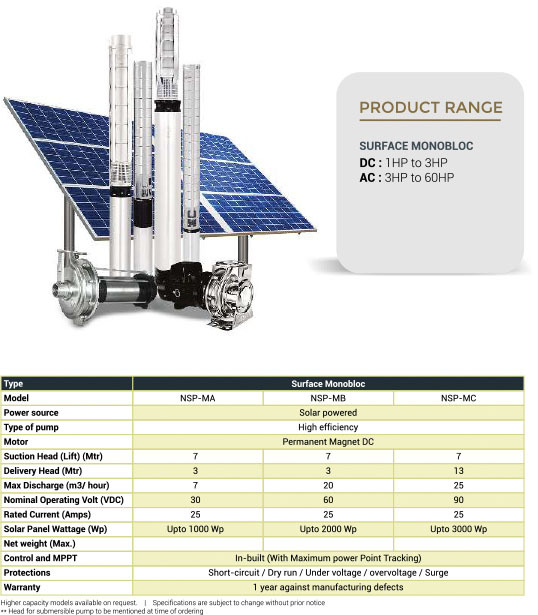 We provide both a monobloc surface as well as a submersible solar pump with power ratings available from as small as 0.5HP and going up to 200HP. The submersible pumps are available in 2 variants, i.e. borewell and open well. Since these solar pumps can operate independently off-grid or Genset, they are suitable to be deployed anywhere to get a reliable source of water supply.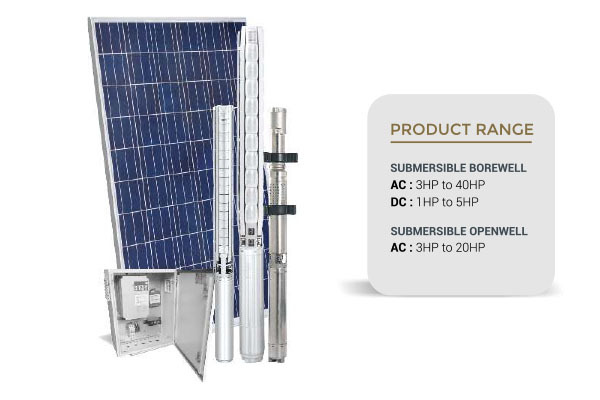 Various kinds of advanced features such as MPPT technology and automatic on/off operation are integrated into these products. Furthermore, Novergy solar pumps offer the highest efficiency and longevity with its stainless-steel construct. Protection of the pump is taken care of by utilizing added features such as dry run protection and surge protection.
Our solar pumps are a credible solution for rural and remote locations, they are easy to transport and relocate. They can be installed as per the requirement of the project or agriculturist and have an extremely low operating cost. Moreover, these solutions are cost-efficient in the long run, proving themselves as the optimum solution for regions with sunny days and plenty of groundwater.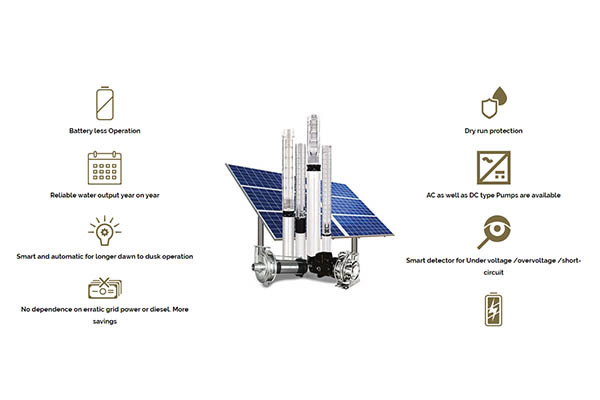 Novergy solar water pumps also come with a full 25-year linear warranty. This means, 25 years of worry-free operations with no fuel costs, labour and maintenance cost.
If you wish to know more about our remarkable and highly efficient solar pumps, then you can get all the technical details by visiting novergysolar.com. Get solarized NOW!